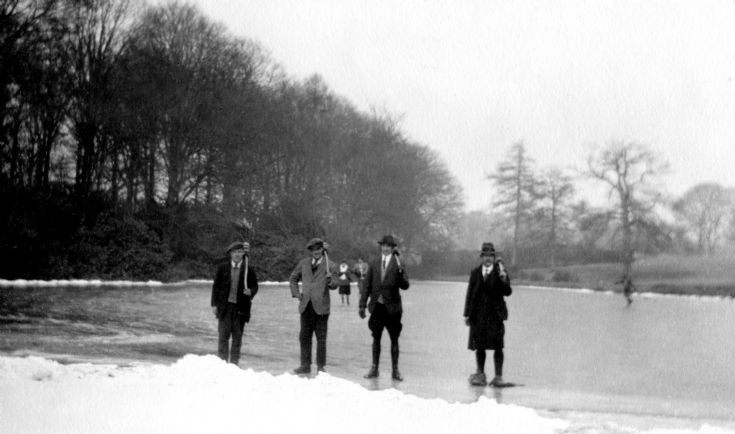 The Slaugham Archive
Ice skating in Pease Pottage (1 of 2)
In January 1929 freezing weather hit much of Britain and for a few days Pease Pottage became an Alpine resort!
At Woodhurst the fish pond (
picture #1683
,
picture #1684
, and
picture #1685
) froze over and the resident Mountain family made the most of the wintery conditions.
With help from their garden staff they cleared the snow off the ice so that they could carry out their passion for ice skating.
The pictures are just 4" x 3" and taken with a 90-year-old camera, so the quality is not great.
The men with besom brooms are named in the album as being John, Rice, Harry and Ayling. The first is Graham John Mountain, and Harry is my uncle, Harry Bourne.
The Large Version shows a close up.
Select Open Document to view four more photographs to which has been added the actual comment in the album, presumably by Mr Arthur Mountain or his wife, Beryl.
In one of the photographs I presume they are holding hands for safety reasons while making sure the ice was thick enough. If the ice fails I presume they all end up safe, or they all perish!
View Large Version
Open Document
Picture added on 04 July 2019 at 21:58
This picture is in the following groups
Woodhurst