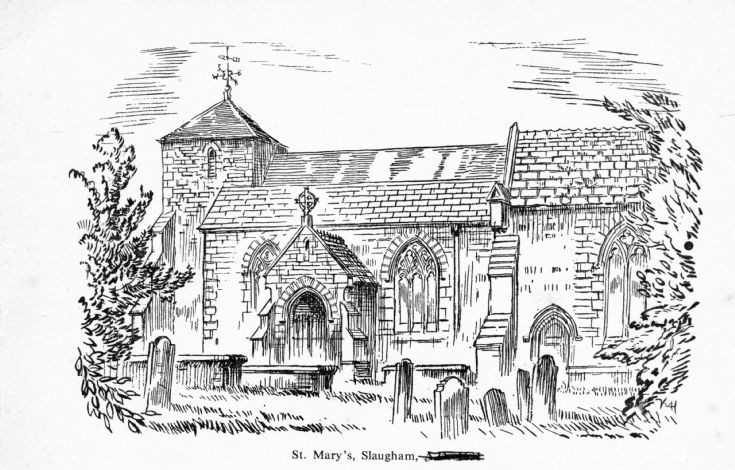 The Slaugham Archive
St Mary's church at Slaugham (1 of 6)
This is a series of five pictures featuring St Mary's church in Slaugham.
Rev. Aylmer Cameron was vicar of the parish from 1946 to 1951 and he lived in The Rectory with his wife, Kathleen and their son, Peter. The above drawing was his Christmas card of 1950.
The above drawing is unsigned but is almost certainly is by Reg Green of Handcross in 1950.
An earlier drawing showed a different configuration of the roof after the Covert Chapel was added to the main building in 1631. See
picture #583
. Unfortunately the inscription "A.D. 1631" was carried forward to this drawing. Rev. Cameron knew that the work to raise the roof was not done until 1858 as shown above and therefore he put a line through the date.
The Large Version shows a close up of the front page of the card.
Select Open Document to view the two inside pages of the card. This is followed by various stories from Mrs Ena Tulley's recollections of St Mary's.
View Large Version
Open Document
Picture added on 18 April 2019 at 10:14