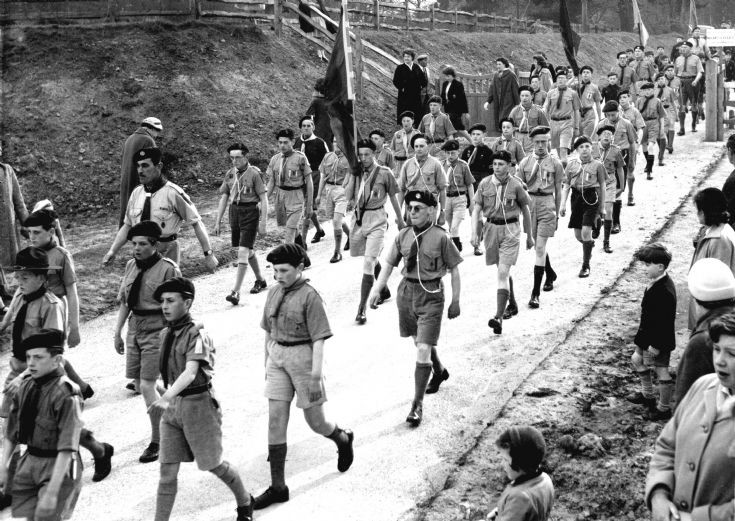 The Slaugham Archive
St George's Day Parade-1st Slaugham Troop (3 of 3)
Further to
picture #2408
, the St George's Day parade arrived back in Handcross following a service at St Mary's Church in Slaugham. Some of the small scouts and cubs look quite tired but I would imagine that the Haywards Heath Band would have been of great assistance.
The photograph shows the brand new entrance to Slaugham Park bridle road with new fencing and gates. For the last 100 yards or so, the driveway was diverted slightly towards the new A23 so that it met the sliproad at 90° for safety reasons. Some 60 years have now passed and the current entrance looks quite different with naturally-grown vegetation and self-seeded trees.
The sign beside the gate says "Bridle Road only. No Cars or Cycles, except to Slaugham Park".
Next to the gatepost is cubmaster Sid Sargent leading the 1st Slaugham Cub Pack.
The Large Version shows more scouts arriving back in Handcross. In the pale-coloured shirt is Will Gardner, scoutmaster of the Balcombe troop.
Select Open Document to view a similar photograph showing some 1st Slaugham Scouts arriving. On the extreme left in the pale shirt is Graham Pateman, followed by Stephen Cox nearest the camera, and Derek James beside him.
They are followed by Andrew Wickham (nearest) and Andrew Sargent. Then, Godfrey Parker, Clwyd Masters, and Rodney Pattison. Lastly, Terence Marshall, Norman Leppard and Colin Boniface.
At the service at St Mary's, Slaugham the Cub law was read by Billy Dawson, and the Scout law by Norman Leppard, both from 1st Slaugham.
View Large Version
Open Document
Picture added on 07 December 2018 at 18:45